riversideca.gov
Earth Month 2021
Published: 4/01/2021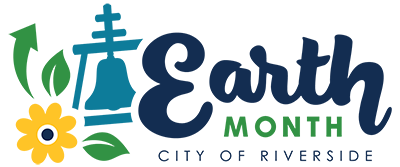 Since 1970, Earth Day and Earth Month has been a time where people all over the world come together to learn about protecting the planet and our environment.
Each week, we'll be adding new information and local activities for the whole family.
Here's a sneak peak of what's coming up:
Outdoor adventure journals
Read alouds
Local volunteer opportunities
Insect fair
Scavenger hunts
Nature Walks
This week's theme is Green Power. We'll look at some of the ways that we can harness sustainable energy for our homes, cars, and even learn how to cook with the power of the sun.
Be sure to check back frequently to see what's new!
Week 4 April 25-30
Sustainable Riverside
This week we'll look at what local organizations and businesses are doing to help create a more sustainable Riverside.
As Earth Month is coming to an end, here's a special message from RPU's Board Chair.
Riverside Public Works - Helping to Keep Riverside Clean and Green

Learn all about green waste and how you can use it to help keep your yard and garden growing strong.

The environment in which we live, work, learn, and play impacts our health. The Public Works Department helps Riverside residents, businesses, and the community be a clean and sustainable city through reuse and recycle programs, reducing contamination, and increasing composting efforts. When the environment is healthy, safe, and thriving, the Riverside community can engage with one another, promote healthy behaviors, and create a safe and healthy community to live in.

The Solid Waste Division, a branch of the City's Public Works Department, provides refuse collection, street sweeping, and Urban/Forestry Landscape operations. Refuse collection provides weekly residential pick up of trash, recycled, and green waste for approximately 80,000 residential homes, using both City and private hauler drivers. 28 routes are completed weekly using 41 CNG refuse trucks in a 4-day/10-hour work week. Additional collection events are held throughout the year including 3 citywide CURE (Clean Up Riverside Environment) Events and one Bulky Event. Street Sweeping is conducted twice a month along 60+ routes. Street Sweepers collect debris along the gutters covering approximately 600 miles twice each month. Urban/Forestry Landscape oversees approximately 167,000 trees and manages over 450 acres of landscaping throughout the 81 square miles of the City of Riverside.

Learn more about Riverside's Public Works Department here.

Wait Don't Throw That Away!

Ever wonder exactly what can go into each trash can? Take a look at this breakdown from Riverside Public Works.

Learn more at https://riversideca.gov/publicworks/trash/

Services Offered by Public Works

Here are some helpful links to some of the services offered by Public Works

Riverside Residential Recycling Services - https://riversideca.gov/publicworks/trash/residential-recycling.asp
Riverside Clean Up Riverside Events (CURE) - Periodic events, proper disposal of household hazardous waste items and 2021 CURE Schedule can be found on this website link below:
Riverside County Household Hazardous Waste Disposal Information and 2021 Collection Sheet/Facilities - http://www.rcwaste.org/hhw
Riverside Commercial Business Services – General Commercial Trash and Recycling Information, state mandates and law information about recycling (AB 341, AB 1826 SB 1383) and Commercial and Multi-Family Housing Rates or recycling:

Mandatory Commercial Recycling (AB 341):

4 cubic yards or more must recycle
5 MF dwelling units or more must recycle
Recyclables includes, but are not limited to, plastic, glass, cardboard, and newspaper.

Mandatory Organics Recycling (AB 1826 & SB1383)

2 cubic yards or more of organics must recycle (2020)
4 cubic yards or more of organics must recycle (2017)
Organic waste (also referred to as organics) includes landscape waste, green waste and pruning waste, food waste, and non-treated wood.
Multi-family dwellings' organics recycling is specific to landscape waste only (not food waste).
Examples of "food waste" includes solid, semisolid, and liquid food, such as, fruit, vegetables, cheese, meat, bones, poultry, seafood, bread, rice, pasta, and oils;
Coffee grounds and filters and tea bags; cut flowers and herbs; and any putrescible matter produced from human or animal food production, preparation, and consumption activities. Food waste includes food-soiled paper.

Curbside Oil Pick-Ups for Residents – Information about Used Oil Recycling Centers, Curbside Oil Collection Services and general info about disposing of Used Oil properly: https://riversideca.gov/publicworks/trash/HHW-used-oil.asp
Alternative Fuel Vehicle Rebate Program: https://riversideca.gov/publicworks/air/alternativefuel.asp
For more information about proper recycling methods, up to date state efforts on recycling, COVID-19 resources, public participation efforts, public meetings, etc., visit: https://www.calrecycle.ca.gov/
Presentations and/or learning materials on recycling for youth populations and the greater community in Riverside

Public Works Alternative Vehicle Rebate Program - The Alternative Fuel Vehicle Rebate Programs is designed to encourage the purchase of alternative fuel vehicles and to increase awareness of the benefits associated with driving a clean vehicle. The program provides rebates to City of Riverside residents who purchase or lease a qualified new alternative fuel vehicle from an auto dealership within the City. For more information, click on the link below to see if you are eligible.
https://riversideca.gov/publicworks/air/alternativefuel.asp

California Air Resources Board (CARB)

CARB is charged with protecting the public from the harmful effects of air pollution and developing programs and actions to fight climate change. From requirements for clean cars and fuels to adopting innovative solutions to reduce greenhouse gas emissions, California has pioneered a range of effective approaches that have set the standard for effective air and climate programs for the nation, and the world. CARB's mission is to promote and protect public health, welfare, and ecological resources through effective reduction of air pollutants while recognizing and considering effects on the economy. CARB is the lead agency for climate change programs and oversees all air pollution control efforts in California to attain and maintain health-based air quality standards. To learn more information about CARB, their website at:
https://ww2.arb.ca.gov/

The New CARB Southern California Headquarters here in Riverside!

CARB is building a new Southern California Headquarters in Riverside! Under construction on a 19-acre site near the campus of UC Riverside, the approximately 380,000 square-foot facility will be one of the largest and most advanced vehicle emissions testing and research facilities in the world. It will also be the largest 'net-zero energy' structure (producing as much energy as it uses) of its type in the nation. The facility will also be designed to achieve Leadership in Energy and Environmental Design (LEED) Platinum certification and meet CalGreen Tier 2 standards.

To see an early preview of the new Southern California Headquarters, watch this animated video of the facility at: https://youtu.be/8CiikZ9-oBU

CARB educational resources for teachers, student and the greater community

Getting Kids Involved - The topic of climate change and global warming is one that can be confusing, and even frightening for children. Knowledge is empowering, and getting kids involved in the classroom is the first step to helping them understand climate change. Visit https://coolcalifornia.arb.ca.gov/article/getting-kids-involved to learn more information about classroom activities surrounding the topic of climate change to engage and inform our future generation to become environmental stewards.

Climate Change Curriculum – CARB has collected classroom curriculum for grades K-12 to learn about climate change through classroom activities and hands on projects with the help of partner agencies including the California Environmental Protection Agency, CalRecycle, National Science Foundation, U.S. Environmental Protection Agency and many more. To learn more information about the climate change curriculum, programs for classrooms and schools and additional resources, visit https://coolcalifornia.arb.ca.gov/article/climate-change-curriculum

Educational Videos – California Air Resources Board (CARB)

Clearing California Skies – This video tells the story of how concerned citizens, top scientists, and local and state government agencies fought back. It took the best science and engineering to control smog forming emissions from factories, shops, incinerators, and the automobile. Despite meteoric population gains, (more factories, more cars, more trucks) - air quality has improved dramatically over the past 50 years, and along the way California emerged as a world leader in the battle against air pollution.

To view Clearing California Skies, visit: https://youtu.be/k2Ra8PRtXSU

With Every Breath: Health Effects of Smog – How does smog hurt your health? You may be surprised. This video shows where smog comes from, how it's formed, and who is most vulnerable. It looks at the real cost of air pollution to California and how reducing smog levels benefits all of us.

To view With Every Breath: Health Effects of Smog, visit: https://youtu.be/lmRQgqeUNzc

South Coast Air Quality Management District – SCAQMD

South Coast AQMD's Mission is to clean the air and protect the health of all residents in the South Coast Air District through practical and innovative strategies. As a means of measuring progress towards successful completion of this Mission, South Coast AQMD has established Goals and Priority Objectives and associated performance metrics on a fiscal year basis. To learn more about the SCAQMD, you can visit their website at: http://www.aqmd.gov/home Below you will find several resources and helpful information related to air pollution, rebates and programs that are available to the Riverside community!

Learn more about the impact of air pollution and what you can do to help

The Right to Breathe is a documentary film by the South Coast Air Quality Management District revealing the serious health effects of Southern California's air pollution, shared through stories of individuals. Directed by award-winning documentary filmmaker Alexandre Philippe, the film is meant to make viewers aware of the impacts of air pollution while also inspiring them to take action and participate in practical solutions to help improve our air.
To learn more about the documentary and actionable steps you can do help reduce air pollution in our community, visit: https://www.aqmd.gov/home/research/right-to-breathe-home
For the direct link to watch The Right to Breathe YouTube Video, visit: https://youtu.be/CmpwMjL8K7U

SCAQMD Electric Lawn and Garden Equipment - The South Coast Air Quality Management District (South Coast AQMD) has two programs that help clean the air through the replacement of gasoline-powered residential lawn mowers and commercial lawn and garden equipment

Residential EV Charging Pilot Program - The South Coast Air Quality Management District (SCAQMD) has established a residential Electric Vehicle (EV) charging incentive pilot program to offset Level 2 (240v) EV supply equipment hardware costs. This program will be available to residents within the SCAQMD's four-county jurisdiction.
South Coast AQMD is offering an incentive for residents, renters (with landlord approval), or landlords of a rental property in the areas surrounding cities of Riverside and San Bernardino or the community of Boyle Heights to replace their wood burning device. If you are a resident of one of these areas you may be eligible to receive funds for an installation of a cleaner burning alternative.

UCR Botanical Gardens

The UCR Botanic Gardens is a 40-acre living plant museum with more than 3,500 plant species and thousands of specimens from around the world, with a focus on plants from Mediterranean climate (dry summer) and arid lands similar to California and the desert southwestern US. Learn more at https://gardens.ucr.edu/gardens.

Love Riverside Food Collection Events

Love Riverside is collecting nonperishable food, household and hygiene items once a month at Hunt Park from 9-11am to help out our neighborhood pantries. Pantries are experiencing a heavy volume of families needing food each week. Come out and support your neighborhood pantries!

Victoria Avenue Forever

Victoria Avenue Forever is a public benefit, nonprofit corporation dedicated to the preservation and beautification of historic Victoria Avenue in Riverside. Victoria Avenue Forever raises funds for planting trees and roses, organizes workdays devoted to tree-planting, tree care, pocket park creation and maintenance, and educates the public about the history and value of the plantings on Victoria Avenue through newsletters, brochures, information kiosks and special events.

Check out a virtual tour of Victoria Avenue Forever to learn more about the history and environmental stewardship that the nonprofit organization has done for the community at: https://ecp.maps.arcgis.com/apps/MapTour/index.html?appid=767ae5dd48a7470faf991193755708cb

To learn more information about Victoria Avenue Forever and how you can get involved, you can visit: https://victoriaavenueforever.org/

Citrus State Park

Citrus State Park interprets the industry's role in the history and development of California through the stories of the diverse groups of people who made it all possible. The park recaptures the complexities of the time when "Citrus was King," exploring the significance of the citrus industry in Southern California. Learn more at https://www.parks.ca.gov/?page_id=649

Keep Riverside Clean & Beautiful – Love Your Neighborhood

Keep Riverside Clean & Beautiful is hosting neighborhood clean ups on Monday, April 25 through Friday, April 30. Beautify your neighborhoods, remove litter and graffiti, and keep Riverside looking great! To sign up, visit www.krcb.com/LoveYourNeighborhood or call 951-683-7100 ext. # 204.

J.W North Water Treatment Plant Tour

Learn all about our very own J.W North Water Treatment plant and learn how to get a job in the water industry!

STEM CAREERS

Are you looking for some STEM related fields and don't know where to start? Check out www.stemexplore.org to find out if any of these fields interest you!
A Message from the City of Riverside City Council
As Earth Month comes to an end, check out how you can keep it going with some closing thoughts from Riverside's City Council.
This week's read alouds include :
Outdoor Adventure Journal
This week we're learning what we can do to reduce what goes into a landfill.
Week 3 April 18-24
▼
Water – Drought/conservation/ recycled water
water shed recycled water
We use it every day, and it's a key to life on this planet, but where does our water come from? This week we're going to learn all about water.
Where Does Our Water Come From?

Ever wondered where our water comes from? Listen to our very own Utilities Senior Resource Analyst Greg Herzog to find out exactly where we get your drinking water!

Discover where Riverside's water comes from

What is the Santa Ana River Watershed? - San Bernardino Valley Municipal Water District

The City of Riverside gets its name from being in close proximity to a running waterbody known as the Santa Ana River. The Santa Ana River drains the largest watershed, known as the Santa Ana River Watershed, to Southern California's coastal region. San Bernardino Valley Municipal Water District's Ecosystem Restoration Biologist, Chris Jones and Botany Biologist, Kai Palenscar visit the Santa Ana River. They dive in and give us information about what and where the Santa River is, habitat conservation and restoration efforts in the Upper Santa Ana River Watershed, and talk about the native fish in the water including the Santa Ana Sucker!

San Bernardino Valley Municipal Water District – Upper Santa Ana River Habitat Conservation Plan:

San Bernardino Valley Municipal Water District, together with other water districts, cities, and stakeholders in the Santa Ana Watershed are working towards developing and implementing the Upper Santa Ana River Habitat Conservation Plan. This watershed conservation plan would grant authority and oversight to build future water supply projects in the watershed to meet the needs of a growing community and the environment in the region. You can learn more about the project and how it can help communities and the environment in the Santa Ana River Watershed in this brief overview of the Upper Santa Ana River Habitat Conservation Plan.

You can read more information about the Upper Santa Ana River Habitat Conservation Plan through the Habitat Conservation Plan Fact Sheet below:

To learn more information about the Upper Santa Ana River Habitat Conservation Plan, visit the Upper Santa Ana River Sustainable Resources website at: http://www.uppersarhcp.com/Default.aspx

Sunny Slope Creek Project Restoration Project

San Bernardino Valley Municipal Water District (SBVMWD), together with partners across the Santa Ana Watershed, are working to restore a beloved nature landmark known as the Louis Robidoux Parkland & Pecan Grove in Jurupa Valley after a devastating fire destroyed the nature center and the land and environment around it. Check out this video to learn what SBVMWD and project partners are doing to restore the site and how it can help support and improve water quality and management, wildlife, and habitat conservations efforts in the Santa Ana Watershed:
https://www.youtube.com/watch?v=GuVHYZ69I-Q

To learn more about the Louis Robidoux Nature Center, visit their website at:
https://www.louisrobidouxnaturecenter.org/

Learn How to Make the Most of Your Yard!

San Bernardino Valley Municipal Water District and the Inland Empire Resource Conservation District are proud to present the WISE UP webinar series, a virtual introduction to water efficient landscaping.

Be Wise and Maximize Your Yard is the final webinar in this 3-part series, and will focus on: designing your yard for best use, growing your own produce, and saving water outdoors.

This virtual event will take place on Saturday, April 24th from 10:00am-12:00pm. You can register for this FREE event at: https://tinyurl.com/bewisemaximize

UCR Earth Week Events 4/19-4/23

UCR has a number of events for Earth Week! Below are some really awesome challenges and virtual events you can register for. Make sure to visit their website: https://sustainability.ucr.edu/earthweek2021 to view a full list of events and to sign up for these amazing virtual events open to public!

Monday April 19-23

Earth Week: TikTok Challenge

TikTok Challenge: Make a TikTok/Instagram Reels video showing how you support the environment. Tag us and use the hashtag #climateclout to determine who has the most Climate Clout! Submit between April 19th and April 23rd 2021 to be eligible for a prize.

Tuesday April 20, 2021

Earth Week: Facilities Services Earth Week Panel

Join Facilities Services on Tuesday April 20th from 11:00AM - 12:15PMfor an update on the state of energy management, recycling & refuse, and our green cleaning efforts at UC Riverside! Attendees may submit questions prior to the event.

Wednesday April 21, 2021

Sustainability in UCR Dining- Instagram LIVE event

Come to learn about the different sustainability initiatives within UCR Dining locations on Wednesday, April 21st, from 5:00PM-5:45PM. Livestream will be the Office of Sustainability Instagram here

Thursday April 22, 2021

Earth Week: Chasing Coral Movie Screening

Join us for an Earth Week movie screening of the documentary "CHASING CORAL" on April 22nd 2021 from 5:00pm -6:45pm.

Drippy's Journey:

Play Western Municipal Water District's video game to learn more about where water comes from!

This week's read alouds include :

Outdoor Adventure Journal

This week we're learning where our drinking water comes from, and ways to conserve and protect our water supply.

City of Riverside Outdoor Journal

Come back next week when we'll look at how everyone can make Riverside more sustainable.

Week 2 April 11-17

▼

Pollution week/Insect Fair

This week we're going to get outside and look at the impact that Pollution can have on our environment and how we can all make a difference. We'll also have some scavenger hunts and challenges for the whole family, and we'll take a closer look at our crawling, flying, creeping friends – insects!

This week's read alouds include :

Outdoor Adventure Journal

This week we're going to look for bugs and learn how we can help scientists.

City of Riverside Outdoor Journal

Next week we're going to dive into water and learn where it comes from!

Week 1 April 1-10

▼

Green Power/Energy/Tree Power

Outdoor Adventure Journal

This week's outdoor journal guides us through the park, we'll cook with the sun, adopt a tree, and make a sun clock.

City of Riverside Outdoor Journal

This week's read alouds include :






Be sure to check back here next week for more Earth Month fun as we learn about pollution and insects!