Clean Up Riverside's Environment
Riverside residents diverted 69% of its waste through programs like CURE.
---
The City of Riverside believes that keeping our communities clean and well-maintained discourages vandalism, graffiti, littering, and even crime. This belief led to the creation of Clean Up Riverside's Environment, better known as CURE.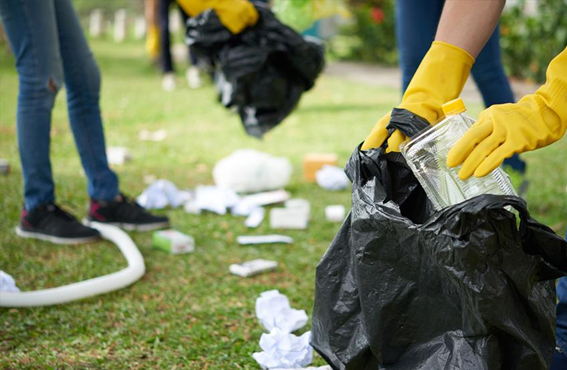 Established in 2003, CURE was also established to expand California's Integrated Waste Management Act (AB939). This successful program promotes the value of having a clean city, raises awareness of litter, and improves overall community pride and involvement.
---
CURE strives to:
Make a marked difference in the overall appearance of our neighborhoods and business districts.
Promote a clean city as a general value to have and uphold among our citizens and business community.
---
CURE also addresses illegal dumping and household hazardous waste disposal by offering:
Free door-to-door used motor oil and filter collections
Free curbside appliance pick-up
Free drop-off days at the Agua Mansa Materials Recovery Facility
---
Periodic Collections Events
Each year, Riverside hosts periodic bulky item and electronic waste collection events for items too large to fit into residential trash containers. All items are collected free of charge for city residents. Check for locations and dates.
Here are the items collected:
Electronic Waste
Computer monitors
Televisions
Cell phones
Tires & Oil
Passenger and light truck tires only (tires on rims will not be accepted)
Bulky Items
Refrigerators
Microwaves
Washing machines
Dryers
Air conditioning units
Stoves
Ovens
Ranges
Toaster ovens
F.O.O.T Patrol
F.O.O.T. (Focusing on Offensive Trash) Patrols are periodic volunteer neighborhood trash cleanup efforts.
Household Hazardous Waste*
Paint
Oil
Bleach
Floor wax
Drain cleaners
Furniture polish
Aerosol cans
Garden chemicals
Pool chlorine
Sharps and needles
Household and automotive batteries
Barbeque propane tanks
Fluorescent light bulbs
*Antifreeze is household hazardous waste. This may be taken to the Riverside County Household Hazardous Waste (HHW) facility located at 1780 Agua Mansa Road on any NON-holiday Saturday. Periodic events are scheduled for drop-off of residential hazardous waste.
---
Ongoing Collection Events
Electronic Waste and Toner Collection
SmartRiverside has one location that accepts e-waste on an ongoing basis:
2801 Hulen Place Riverside, CA 92507
Click here for more information.
---
For more information, contact:
Riverside County Waste Management
951-486-3200